HLA, in collaboration with Save the Children Ukraine and the Ukraine Education Cluster, hosted a 2-day Education in Emergencies (EiE) Reflection and Learning workshop on the 17th & 18th of August.  
25 representatives of the Education Cluster in Ukraine gathered in Kyiv to discuss the foundational concepts and standards of EiE. The workshop provided a safe learning space to share experiences and challenges, identify areas of learning, and celebrate successes. 
Casey Pearson, HLA Learning Solutions Specialist (EiE): 
"In many responses, humanitarian actors have to jump into action to provide much needed programmes and assistance. This workshop gives an opportunity for the Education Cluster members to come together and collectively reflect on their experiences in delivering EiE in Ukraine so far, work together to problem-solve solutions and critically consider what lessons can be learned from EiE responses delivered in other contexts. This is the first step in building an EiE community of practice in Ukraine which will hopefully create many capacity-sharing opportunities within the country and wider region. I'm excited to see where this goes!"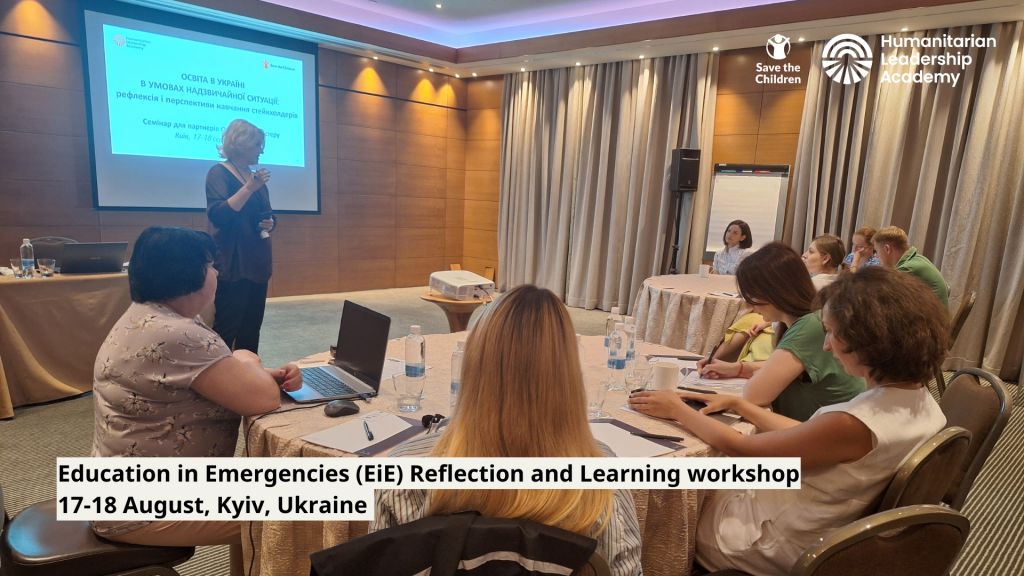 The effect of the armed conflict on the education system has a long-lasting effect on society, so it needs to be addressed holistically and comprehensively. This workshop starts the 3-month programme of creating a community of practice around Education in Emergencies best practices and challenges in Ukraine. Through reflection on their everyday work in overcoming barriers in education, Cluster members aim to contextualise international knowledge accumulated around EiE and spread it further as trainers.  

Margaryta Rymarenko, Save the Children Ukraine, Ukraine Education Cluster Coordinator: 
"In cooperation with HLA, we managed to create a blended learning programme that combines an online course on Kaya with face-to-face sessions, facilitated by local experts. This allows us to critically reflect on both the course content and our up-to-day practice to create a new iteration of the course, which is perfectly adapted for the situation on the ground."
Anastasiia Korobchuk, HLA Learning Solutions Specialist in Ukraine: 
"This programme is a unique project, centred around localisation of EiE provided not by a couple of consultants or one expert organisation, but the whole community of local practitioners. I am thrilled to know how local actors overcome barriers, cope with challenges and mitigate risks for children in this response. When properly documented, these practices would provide an important insight into different contexts in times of the digital transformation of the humanitarian sector."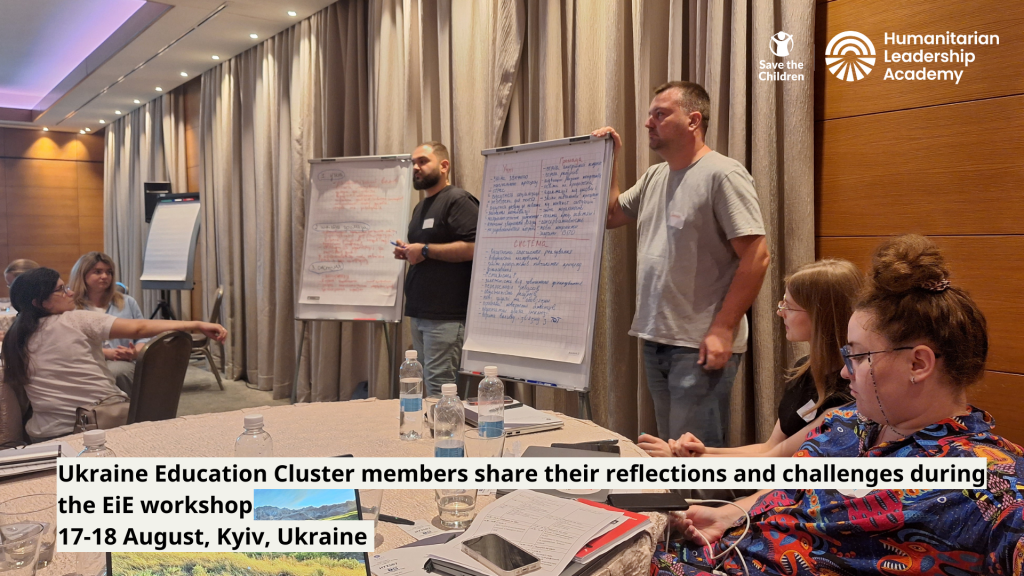 Even though part of the session was conducted in a basement due to the air raid siren, Cluster members found the opportunity to participate valuable and took it positively. The discussion revealed specific problems faced by the Ukrainian Education Cluster on different levels, such as the regress of participatory reform, lack of preparedness and entangled decision-making mechanism.
Svitlana Tarabanova, NGO Women's Consortium of Ukraine: 
"Despite I was familiar with all basics of Education in Emergencies, systematic actualisation of knowledge is crucial for productive group work, especially when participants have different backgrounds and level of experience"
Kateryna Dovhopola, PO Support the Child: 
"I don't miss any opportunity to improve my competence and share knowledge with my colleagues, that is why I applied for this programme."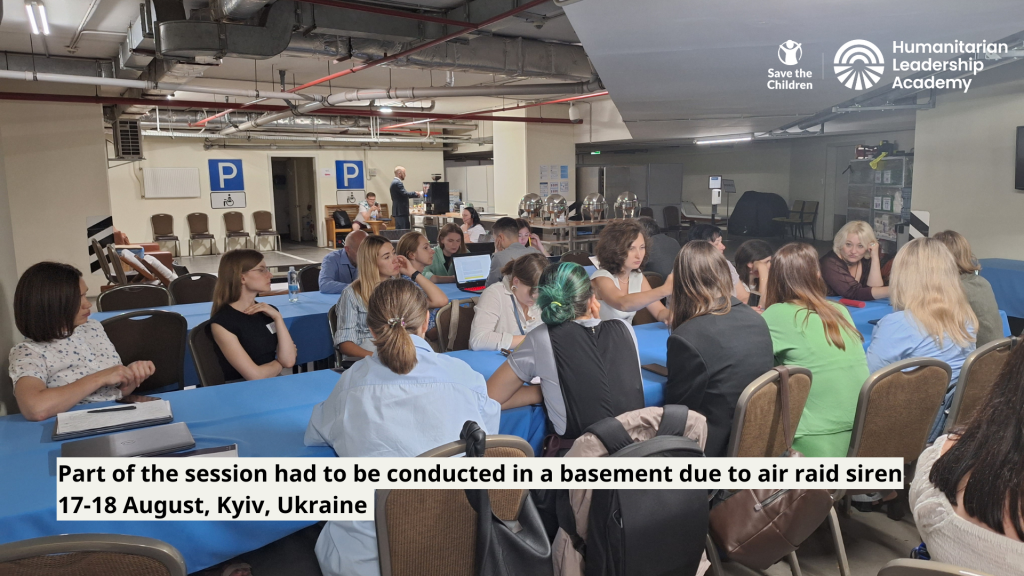 Despite all the pressure faced by communities, children and teachers during the war, participants expressed a lot of hope, as current challenges in the education system create opportunities for growth and implementing innovations.