The HLA Asia Regional Centre is supporting the Save the Children Myanmar Country Office to deliver capacity strengthening training for partners throughout March – June 2023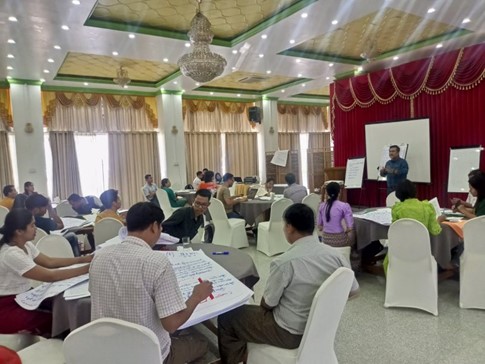 Approximately 50-60 participants from mid-level managers to field-based staff are participating in the training, drawn from Save the Children International and seven local partner organisations in Northern Shan State and Magway.
The objective of the training programme is to strengthen and enhance the current skills set of the partners for effective programme implementation and equip them for emergency response as well as to contribute to their institutional capacity strengthening.
The change in the context for non-governmental organisations (NGOs) working in Myanmar has brought many operational challenges to the local civil society organisations (CSOs).

To support these organisations in working effectively in the current context and to build stronger partnerships, Save the Children Myanmar identified key operational and thematic areas to strengthen partners' capacity through a consultative process with the partners. Face-to-face training has been identified as a priority, complemented by online training.
Following the consultation, training programmes on different themes based on the priority learning areas were developed: Programmatic (Accountability and Financial Risk Management, Safe Programme, Contextually-Sensitive Programme Management); Operational (Budget Management, Supply Chain, IT Basic Knowledge Sharing, Safety and Security) and Compliance (Child Safeguarding, and Fraud Awareness).
The training successfully commenced in March 2023 with Contextually-Sensitive Programme Management and Supply Chain Training.
Contextually-Sensitive Programme Management Training
Contextually-Sensitive Programme Management face-to-face training held on 27-29 March was attended by 33 participants – including 14 women – from programmatic, operational and medical roles from Save the Children International and partner organisations.
Led by Save the Children Myanmar's Partnership Adviser, the training was instrumental particularly to understand the concept of stakeholder mapping and the concept of Do No Harm.
Participants learned about the connector and dividers analysis, how the programme impacts the context, and ways to decrease the negative impacts on the programme by redesigning the project.

Supply Chain Management Training
The Supply Chain Management Training held on 28-29 March was attended by 14 participants and was led by Save the Children Myanmar's Supply Chain Coordinator.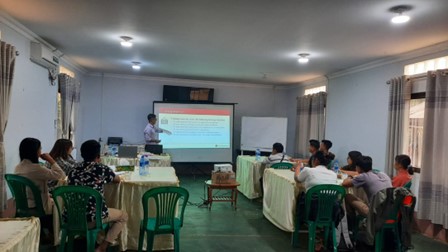 The supply chain was identified as the key 'area for improvement' during the needs assessment process. The training was designed with the objective of feeding into further fine-tuning partner's supply change policies, systems and processes that are aligned with best practices in the sector.
Participants learned about the workflow and its management of supply chain, procurement, fleet, and asset management, as well as how to set up this system in their organisational operations.

The HLA Asia Regional Centre is funding the training programme and providing support through oversight of the entire process to ensure quality standards.

Soso Bagashvili, Head of the HLA Asia Regional Centre said:

"We are very pleased to fund and support the Save the Children Myanmar Country Office in delivering this vital capacity strengthening training in Northern Shan State and Magway. Thank you to colleagues, partners and participants for these fruitful first training sessions – we look forward to the next stages!'"