19th June 2023
Esther Grieder was recently selected to present at eLearning Africa which took place between 24-26 May in Dakar, Senegal. Here she shares her reflections from the event.
A few weeks ago I returned from eLearning Africa, hosted this year in Senegal, in the Abdou Diouf Conference Centre just outside Dakar.

The conference brings together a huge range of companies, organisations and individuals with an interest in how the power of technology can best be applied to education, training and skills development on the African continent, and elsewhere.

The sessions I attended included everything from artificial intelligence (AI) and the metaverse, through to the use of radio waves to transfer visual and audio content, through to the very real challenges of implementing any kind of education technology (EdTech) initiative without internet connectivity.
I was also part of a panel which presented on 'How digital credentials are transforming skills recognition in the workplace' (read about HPass, our digital credentialling programme for humanitarians).
Esther with fellow presenters Eiman Elmasry (ITCILO), Rita Fennelly-Atkinson and April Williamson (Digital Promise) and Mike Feerick (Alison), and Chair Rolf Reinhardt (ICoBC).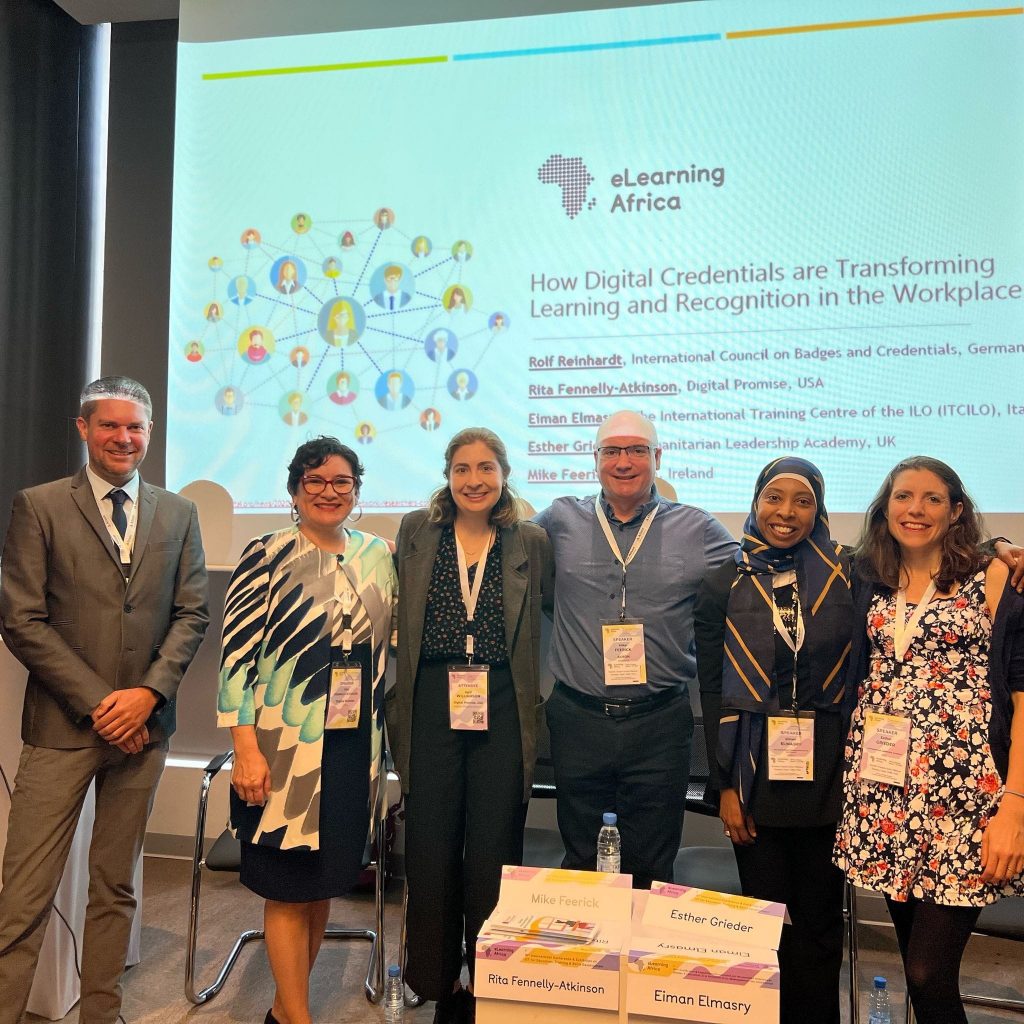 Here are my overarching conference takeaways…
The global pace of technological change versus the speed of progress towards universal internet access
Globally, the pace of technological change is now faster than most of us can keep up with, as blockchain, the metaverse and AI each take their turn as the next big thing and promise to reshape our lives.

However, in Africa where internet penetration is 43 percent (source: Statista, 2021), the priorities in terms of educational technology centre more around internet coverage, and how to ensure that children and young people have the equipment and support to develop digital skills which will facilitate their access to the modern workplace. Getting the basics in place is still very much top of the agenda.

There were some interesting presentations on technological solutions in internet-less settings. These included using digital radio to send audio and visual content (Aldred Dreyer, Digital Radio Mondiale), and the possibility to create a collaborative document on multiple devices without internet using Web 3.0 technologies (Sebastian Zug, Technische Universität Bergakademie Freiberg).
The digital divide
This discrepancy between the pace of technological change, and access to the internet, is creating what's known as the digital divide.

Across Africa, capital cities typically have great internet coverage whilst in smaller towns and rural areas it's sporadic. This means that in richer urban areas people are benefitting from each new technological innovation as it arrives and rapidly improving their quality of life, whilst rural areas lag behind.

Likewise, private schools are quick to pick up new technologies made available by start-ups and non-profits, whilst public schools are hugely hindered by red tape and administration.
Digital skills
Given the above, digital skills are clearly a priority and needed at all levels. Governments require digital skills to be able to make policies to facilitate and regulate digital industry, employers require digital skills of their recruits, and teachers require digital skills to be able to impart them to their pupils.

Digital Africa's Penelope Terranova reported that 230 million jobs requiring digital skills will be required to be filled in Africa by 2030, with only 690,000 professional identified. 60 percent of the continent's digital talent is concentrated in six countries.
Soft skills
Across the conference 'soft skills' (or interpersonal skills, power skills) was one of the strongest themes. The term 'soft skills' refers for example to the ability to communicate effectively, build relationships, work in teams and adapt to new situations, which for many employers are the difference between being able or unable to do a job.

Across the board, soft skills were seen as one of the key challenges that must be addressed to prepare young people for work and to enable employees to perform in their roles, with a lot of interest in how tech could be mobilised in support of the task.

Digital Africa had conducted research suggesting that for EdTech start-ups, soft skills were consistently the most sought after skills.
Sovereignty and self-determination
As we all know, the technology that is taking over our lives, for better or worse, is primarily developed by a handful of privileged individuals in Silicon Valley.

At the closing debate entitled 'The House believes AI will do more harm than good on the African continent', it was interesting to hear the presentation of Francisca Oladipo of Thomas Adewumi University in Nigeria, who argued that AI is a threat to African culture. She argued that the data used by AI is gathered from the most active users of the internet, i.e. those in the Global North, and therefore its intelligence is a Northern rather than an African one.

In addition as more data is gathered from the African continent and commodified, technology can be seen as yet another extractive industry making use of African resources for Northern profit.
What does all this mean for HLA and the humanitarian sector?
As an organisation focused on the provision of learning and training in the humanitarian sector, it's clear that we need to continue to embrace the power of new technology to deliver learning. EdTech increases our reach and can provide our learners with simulations of humanitarian situations before they face them in real life.

However, it remains important for us to recognise that internet connectivity is not a given in the areas in which we operate, and that we should continue to provide learning opportunities for humanitarians in the remotest regions.

It's also clear that we need to be preparing humanitarians for a digital future, providing them with the skills they need to navigate the rapidly changing technological landscape.

We need to support them to be able to use technology to provide better humanitarian response, as well as understand the threats posed by technology itself (cybersecurity threats, new kinds of weapons used in conflict) which humanitarians may face.

Doing so will require the humanitarians of the future to have advanced leadership and transferable skills, to be able to analyse and adapt to an ever-more rapidly changing technological context.
Ferhana Dostmohamed's session on leadership identified five facets of leadership including 'Embraces Agility', a characteristic of increasing importance in a fast-changing technological landscape, and particularly for humanitarians.
Of course, it wouldn't be an edtech conference for me without a finding related to digital credentials! Joshua Lange of Digital Financial Aid Corporation tells us that we will soon be able to attach Bitcoin to a digital credential, meaning you could potentially reward somebody's course completion with funds for further study, or reimburse them on completion of a paid-for course. Wow!
Esther with Lucile Batiano from our West and Central Africa (WCA) Regional Centre, based in Dakar.