A humanitarian learning needs assessment in 2016 showed that one of the main challenges facing Tanzania's humanitarian sector was inadequate practical skills for personnel who can plan and respond to crises effectively.
Lack of trained individuals with expertise and skills required in the humanitarian sector partly contributes to this. Most universities across East Africa have compulsory internships for courses such as Medicine and Engineering but is often voluntary for those pursuing social sciences.
Internship for the humanitarian sector is therefore a relatively new idea. The shortage of skilled staff can be addressed by imparting humanitarian learning and knowledge to final year students and graduates who would be joining the labor market soon. In addition, Internships offers opportunities for new graduates to gain hands on experience to complement the theoretical knowledge they received in school. Internships, whether paid or unpaid, have immense value and can be seen as a step towards gainful employment.
To fill this gap and increase expertise and skills in the sector, the Humanitarian Leadership Academy in collaboration with Ardhi University and other partners such as Tanzania Red Cross Society and Dar es Salaam University in Tanzania, came together to develop and implement a structured internship programme with the aim of enhancing effectiveness and efficiency of humanitarian organisations on preparedness, response and recovery through improved human resource capacity.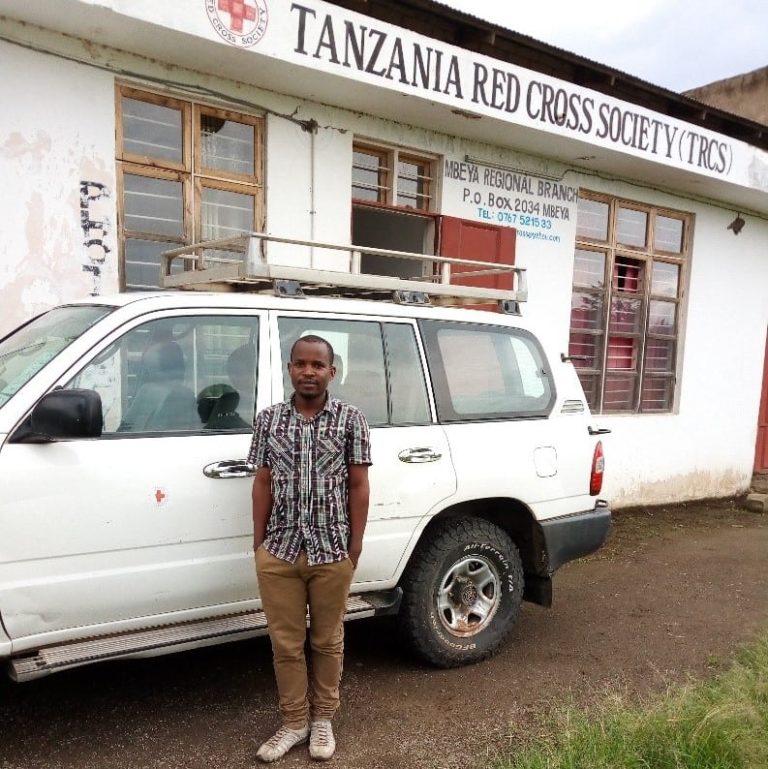 Nuhu Mwashambwa is one of the beneficiaries of the structured internship programme.  He graduated from Ardhi University with a Bachelor of Science degree in Municipal and Industrial Services Engineering, Environment and Water services in 2016. Upon graduation, he got a chance to work in a water supply company for 6 months. When the contract came to an end, he started pursuing his personal activities with the hope that something will open up soon. In November 2017, he saw the advert from Ardhi University calling out to recent graduates with interest in being part of the internship programme and decided to give it a shot.
Nuhu and 25 other shortlisted interns were interviewed and placed into different host organisations across Tanzania. He got a placement at the Tanzania Red Cross Society – Mbeya Regional branch. Mbeya region was experiencing a rapid population increase, leading to an expansion of unplanned settlements with poor amenities, public services and health services. This in turn led to poor sanitation and hygiene practices in the community, eruption and spread of communicable diseases such as cholera, and poor solid waste management.
Nuhu actively worked together with the TRCS-Mbeya Regional Health and Disaster Committees team. Together, they drafted a mission aiming to improve sanitation, hygiene, health awareness and environmental conservation within the city. Some of the strategies they created included: educating communities, businesses, and education centres on sanitation and hygiene practices to combat infectious diseases, creation of WASH clubs in schools and formation of WASH committees amongst community members.
Through the trainings, the team managed to increase the awareness of communities on importance of good sanitation and hygienic practices, as they targeted to eliminate the epidemic illness challenges in the communities. The internship gave him a place to put into practice the theoretical knowledge he had acquired at University.