The Rohingya refugee crisis
In August 2017, the world witnessed one of the largest cross-border forced displacements of recent times. Within the space of one month, close to half a million Rohingya men, women and children fled their homes in Northern Rakhine State, Myanmar, to escape violence and seek safety in Cox's Bazar district, Bangladesh.
Many of these refugees have suffered horrific traumas in addition to having endured decades-long discrimination and repression.
The need for humanitarian training in Cox's Bazar
Bangladesh is a country prone to natural disasters such as floods and cyclones, and the humanitarian community is well trained to respond to such events, but not to handle a refugee crisis of this scale. This is a new type of crisis that volunteers and aid workers have to wrangle with, and many of them do not have the experience, knowledge and skills to address the ongoing and increasing needs of the refugee population.
Some frontline aid workers have no previous experience working with refugees and therefore are not aware of the principles and standards necessary to provide an effective humanitarian response in this context. Developing new ways of working and strengthening the humanitarian knowledge and skills of frontline staff is therefore a necessity.
Delivering Humanitarian Essentials training in Cox's Bazar
In September 2018, the Humanitarian Leadership Academy, in partnership with BRAC, organised several workshops to provide training to aid workers and volunteers working in Cox's Bazar refugee camps. This training was supported by Unilever.
A facilitator workshop was organised to equip a pool of facilitators, capable of running Humanitarian Essentials workshops for frontline staff. In total, 24 managers and training facilitators from the Humanitarian Crisis Management Project (HCMP), the Disaster Management & Climate Change (DMCC) Programme and BRAC's Learning Division benefited from the three-day training.
Humanitarian Essentials workshops were then organised to train 203 frontline aid workers based in Unchiprang, Kutupalang and Ukhia refugee camps at Cox's Bazar.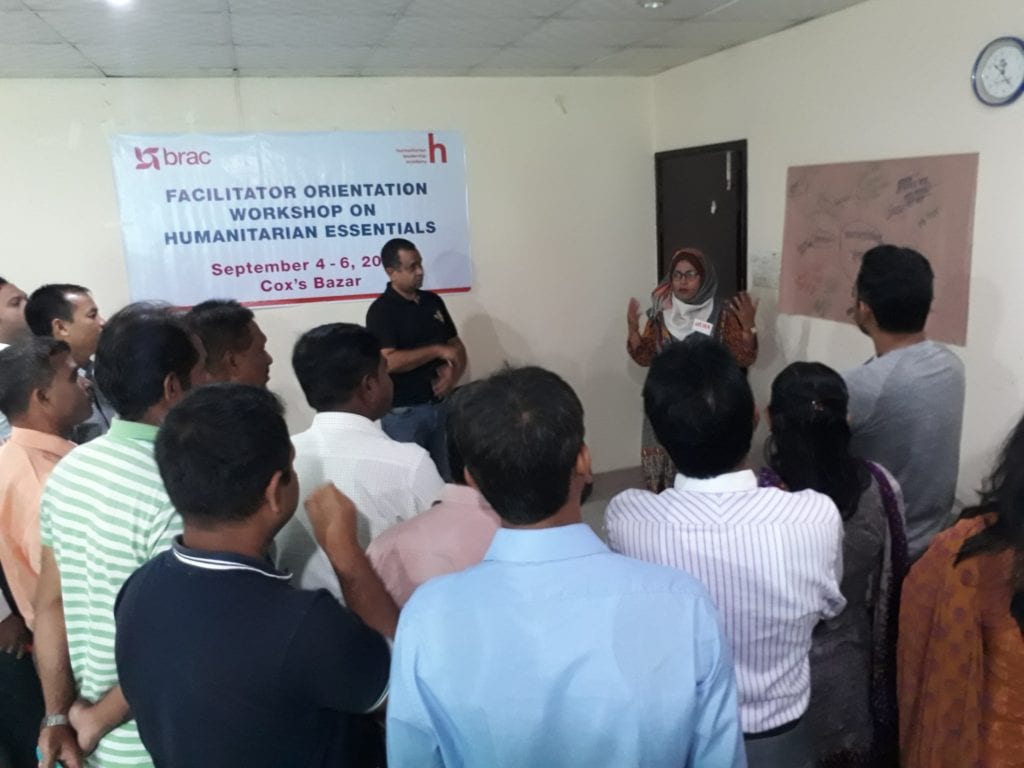 The impact of the training
24 managers and training facilitators developed proficiency in the latest facilitation practices and learned to apply these facilitation skills in training workshops for frontline staff in emergency situations such as the Rohingya crisis. They developed a clear understanding of the humanitarian principles, norms and international regulations practiced in humanitarian response settings, and were fully prepared to provide Humanitarian Essentials training to frontline staff engaged in the Rohingya response.
For frontline aid workers – During the training, the 203 frontline aid workers learned about the foundations of humanitarian response: The Humanitarian Principles, the Code of Conduct, the Core Humanitarian Standard, the Sphere Standards and International Humanitarian Law.
The training also included sessions on aid workers' responsibilities, accountability to affected populations, as well as safeguarding and protection of the most vulnerable. Stress management, an area too often overlooked, was also part of the training, aiming to provide aid workers with useful skills and techniques to take care of their own wellbeing.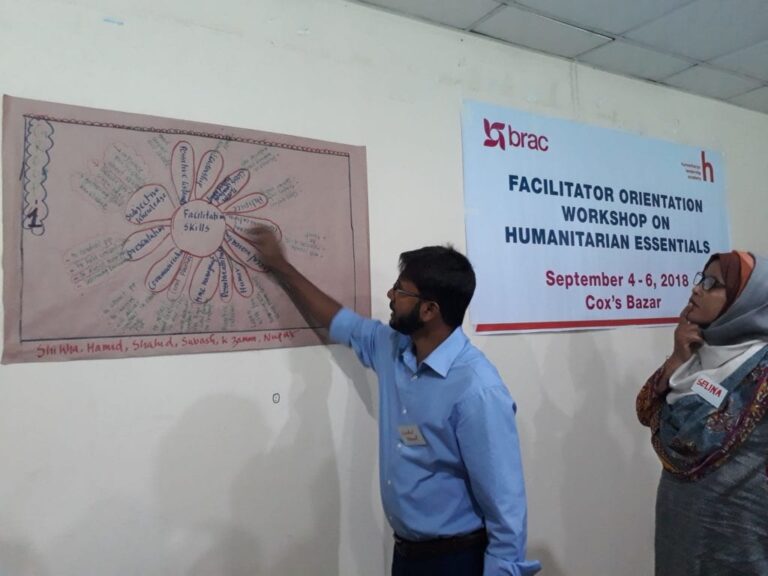 Testimonies from frontline aid workers
Tahmina is a 29-year-old woman who recently left her position in the private sector to work as a Community Outreach Coordinator with BRAC. She is currently in charge of managing and monitoring volunteer activity in the camps, as well as conducting interviews and assessing the needs of the refugees.
Before the training, Tahmina was finding humanitarian crisis management very challenging due to her lack of experience and knowledge in this sector. The two-day training session helped her better understand the Humanitarian Principles, the Code of Conduct, as well as the core responsibilities of humanitarian aid workers:
Other participants such as Syeda, a Gender Based Violence Specialist, said that the facilitator's training had changed her mind-set and attitude towards refugees. She strongly recommends that all humanitarian staff receive the training when they join the response in order to minimise errors and maximise impact in the crisis management system.
Overall, we are confident that frontline aid workers in Cox's Bazar are now better equipped to respond to the ongoing humanitarian crisis. The trainings have helped them better understand the local context of Forcibly Displaced Myanmar Nationals (FDMN), strengthened their humanitarian knowledge and skills; and have also raised wider awareness of the responsibilities aid workers have towards the Rohingya community.
We would like to thank Unilever for their generous support, which has significantly contributed to our mission to enable people to prepare for and respond to crises in their own countries.