Supporting providers to care for the mental health and psychosocial wellbeing of adolescents affected by conflict.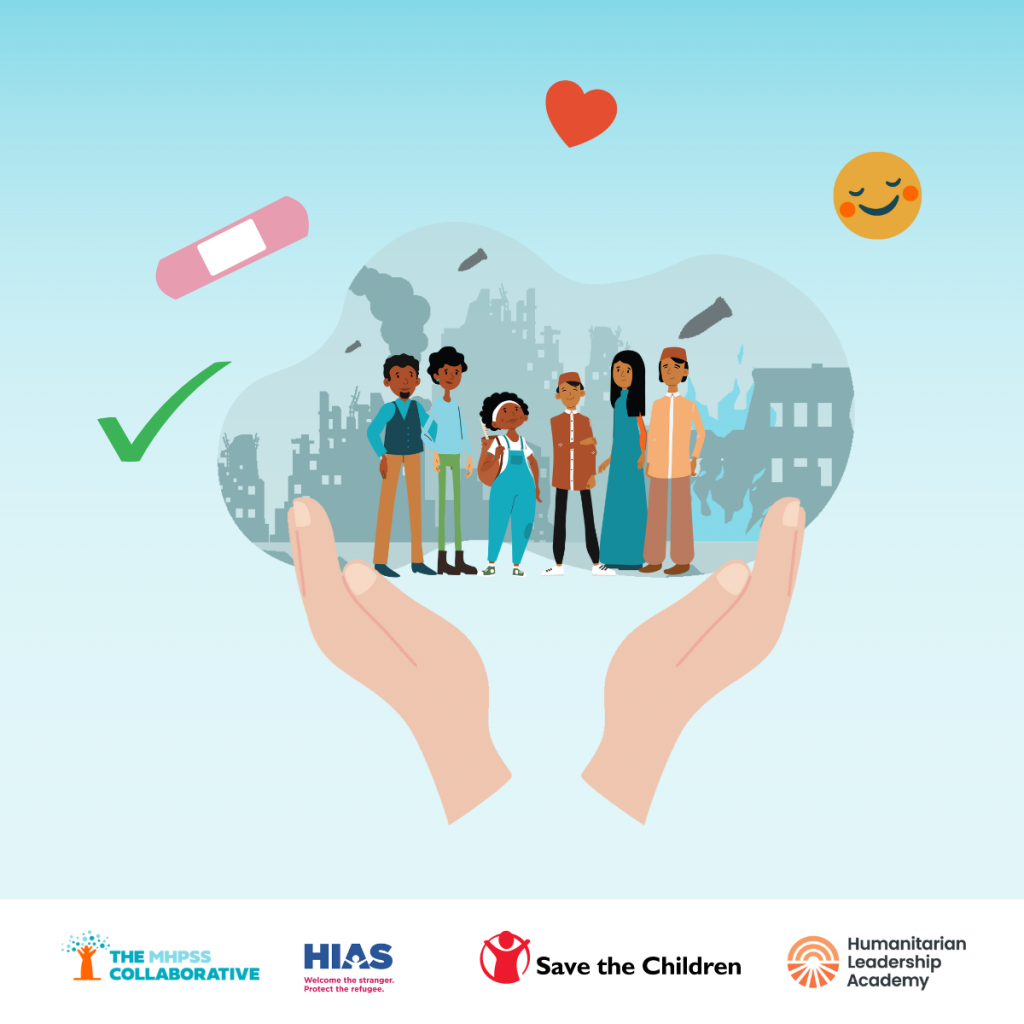 The Mental Health and Psychosocial Wellbeing of Adolescents Affected by Conflict course is designed to provide valuable knowledge on the risks and challenges faced by adolescents during times of peace and conflict. Practitioners, teachers, counsellors, and anyone who works with adolescents will find this course useful.
The course designed by The MHPSS Collaborative, Humanitarian Leadership Academy (HLA), and HIAS provides knowledge on the impact of conflict on adolescent mental health and psychosocial wellbeing, techniques for identifying specific groups with unique needs and challenges during conflict, and best practices in terms of tools and interventions.
Worldwide, half of the global displaced population are children and adolescents. Several studies demonstrate that individuals displaced by violence are at higher risk of mental health issues or diseases.
Adolescence is a period of great susceptibility due to the undergoing biological and social transitions. It is also a period of huge importance for physical and mental welfare; coupled with the distress of a conflict situation, it is important to equip care providers of adolescents with the best resources.
Kira Lomakina, Lead MHPSS Consultant at The MHPSS Collaborative / Save the Children Denmark and one of the authors said:
"Promoting peer networks and support is crucial to the well-being of adolescents affected by conflict. But in practice, how can we build supportive relationships and networks with parents, caregivers, teachers, and peers to protect children from the adverse impacts of conflict? This is the key question this new course sets out to respond to."
Vikki Marmaras, Digital Learning Specialist at the Humanitarian Leadership Academy played a key role in the design and set up of this course which is hosted on HLA's free learning platform Kaya. Speaking on the process and importance of the course, she said:
"This course is self-guided and can be completed in two to three hours, it is accessible in English, Ukrainian, Russian, Romanian, Polish and Hungarian. Though it has been developed with Ukraine in mind, it is relevant to any context where adolescents are being affected by conflict."
Yenehun Ashagrie, MHPSS Regional Technical Advisor, Africa and Eurasia, HIAS, said:
"This course provides practical tools and resources aiming to help service providers address the MHPSS needs of adolescents in conflict-affected contexts."
Alessandra Sacchetti, MHPSS Regional Technical Advisor, Ukraine Response, HIAS, said:
"This is a course developed and tailored for field practitioners to help them provide services to adolescents, by having a good understanding of adolescents' MHPSS needs and interventions in order to practically offer support in a thoughtful way."
Ashley Nemiro, Executive Director of the MHPSS Collaborative / Save the Children Denmark and one of the course authors said:
"The course is an excellent opportunity to gain more knowledge in supporting the mental health and wellbeing of adolescents affected by conflict. Upon completion of each of the six modules, participants will receive a certificate; and a digital badge at the end of the course, which is easy to access through kayaconnect.org. New users of Kaya would need to register an email address to access the course."
Take the course here.
Notes to editors
The MHPSS Collaborative is a global platform for research, practice, learning and advocacy. We connect key academic and humanitarian actors with local civil society to give children and families in fragile circumstances the possibility to thrive.
HIAS is an international Jewish humanitarian organization that provides vital protection services, including mental health and psychosocial support, to forcibly displaced people in more than 20 countries. HIAS advocates for their fundamental rights so they can rebuild their lives and seeks to create a world in which they find welcome, safety, and opportunity.
About Humanitarian Leadership Academy (HLA)
HLA is a global learning initiative set up to facilitate partnerships and collaborative opportunities to enable people to prepare for and respond to humanitarian crises and development challenges in their own countries. The Academy aims to support the needs of individuals and organisations by facilitating access to learning resources, platforms and tools. This enables locally relevant capacity-sharing and mutual learning. 
Kaya is the Academy's online learning platform, designed specifically for humanitarian and development professionals and volunteers to access relevant, up-to-date learning content covering a broad range of general and technical subjects. Kaya is accessed by over 530,000 registered users from over 190 countries and offers over 450 courses in up to 12 languages. The Kaya interface itself is available in Arabic, French, English and Spanish. 
HPass is a digital platform for humanitarians to showcase their skills and expertise. Badges awarded can be shared online or printed as with normal paper certificates.   The initiative promotes transparent and efficient recruitment, by enabling humanitarians to quickly provide verifiable evidence of their skills as they transition between organisations and locations.