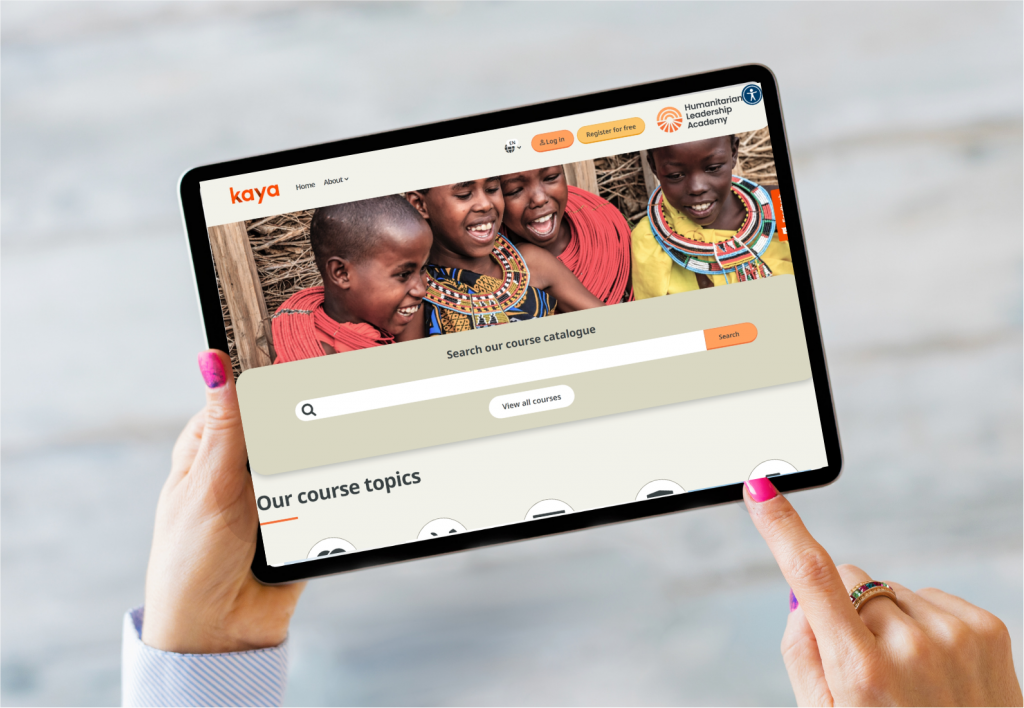 Since May 2016, Kaya – the free digital learning platform operated by the Humanitarian Leadership Academy has upskilled thousands of humanitarians globally to directly respond to crises in their localities. Kaya is providing high quality, expert led and industry recognised learning at times and places where access can be challenging.
A Kaya learner from Syria said: "As someone who faced challenges due to the Syrian crisis, such as limited access and remote management, I found Kaya's designed courses to be invaluable in enhancing my skills and knowledge.
The platform not only helped me keep learning but also enabled me to share this knowledge with colleagues, team members, and partner staff, ultimately making a positive impact on those affected by the crisis, especially since many courses are available in different languages including Arabic."
A Kaya learner from Cote D'Ivoire said: "The learning has changed my outlook, it's opened my eyes to some of the challenges faced by our colleagues on the ground."
Kaya content is contextually relevant and is often updated by experts across the globe with new information as new processes are introduced to humanitarian action.
How can I access Kaya and what will I find?
Kaya is free and accessible on a phone, tablet or laptop. You will need access to the internet to sign up and find content. However, your coursework can be done offline, and progress uploaded when you have access to internet again.
Resources range from games, quizzes, and assessments to online self-directed courses and pathways, webinars, videos, MOOCs (Massive Open Online Courses), and blended courses. Kaya users can also find registration for face-to-face workshops and events and so much more available and accessible at the learner's time/flexibility.
A Kaya learner from South Africa said: "I believe that Kaya fosters creativity and critical thinking and for me that is an essential skill that every humanitarian needs."
Kaya is not only helping humanitarians grow, but also supporting international, national and local non-governmental organisations (who we partner with) to share their knowledge on an accessible platform.
Another Kaya learner from Ukraine said: I've used the Kaya platform during my work with International Rescue Committee till October 2022. And nowadays I was really surprised to see this hub available in Ukrainian. I don't remember any other humanitarian platform with trainings available in our language."
Kaya resources are accessible; the platform includes a screen reader helper, a dyslexia friendly view and much more. As a learner on Kaya, you can earn certificates and showcase the certificates you receive from completing courses. Some courses award HPass digital badges, which you can add to your LinkedIn profile. These certificates and badges validate gained knowledge and encourage and motivate humanitarians to accelerate their learning and professional development.
What should I do now?
If you're looking to learn something new as a humanitarian – from project management to proposal writing, understanding big concepts like cash and voucher assistance or the Grand Bargain. If you're looking to join valuable networks such as the Women in Leadership network hosted on Kaya – sign up now.
If you're already a Kaya learner, tell a friend about Kaya. Share one of the #KayaAppreciation posts on our social media channels or create your own.
The Humanitarian Leadership Academy remains poised to support professional growth and Kaya learners' impact and invaluable contributions to individual communities.